Are you one of those who still think that creating a web page is something complicated for which advanced computer skills, a lot of practice and a huge dose of patience are required? Is there a way that allows us to publish our content on the web that is simple so that anyone without prior knowledge can do it? What are the best options today to create a web page available to a "walk around the house" user?
A web page can be created with multiple purposes: to publicize something or someone, to achieve some social objective or, simply, to build a tool that generates enough income to be able to leave our job to live on it.
Unlike a few years ago, where it was essential to fight with complex codes and overwhelming programming languages, today creating a web page is something intuitive, simple, fast and surprisingly cheap.
It is true that you will find some difficulty along the way and that having your 100 % website optimized will lead to some headaches, but starting to create a stable website is not at all as arduous and complex a task as some do. years, where to create your own web page it was a requirement to have notions about the different programming languages and knowledge to modify the different internal codes.
The great news is clear: you no longer need to know anything about computers to create a website yourself.
The reason why the process of creating and managing a web page or blog has been simplified is due to the appearance of powerful content managers, with which we can upload all our texts, videos and images in a simple way through intuitive menus.
Can anyone really create a website with just a few clicks?
Yes Yes Yes. Creating a web page quickly, but with advanced results, is finally something really easy.
Just by doing a search on the internet, we see how the best experts recommend a clean and attractive design that loads fast or includes social buttons, but of course you should know that what will attract thousands of users to your website is nothing special. this.
Although the development of your website can be something that anyone who proposes it can do it, the reality is that the essential thing for your website to achieve success lies in one thing: the content.
Content is the fundamental pillar of your website. However, there are a number of factors that you should take into account if you want your project to be truly a success.
There are different types of content and different ways of presenting it, which will vary according to the needs of your audience:
Text: The classic par excellence. It is easy to produce, cheap if you do it yourself, although as against I will tell you that you will have to invest long hours in preparing each of your units.
Multimedia: It is gaining more and more popularity due to the increase in users, the increase in internet speeds, the improvement and accessibility of technological devices, although on the other hand, you will need a good computer equipment and the appropriate knowledge and resources to create it.
User created content: Many websites, such as social networks, are based solely on creating a platform where content is created by others. The reality is that unless you are a genius and are very lucky, surely this option is not the most convenient at least to start with.
The content will depend directly on the needs of your project, so that you will have to previously analyze what type of content is the one that fits your website.
Why is WordPress the most popular tool for creating web pages?
For those who do not know, WordPress is the most used content manager in the world to create web pages with extreme simplicity.
The main advantage that WordPress provides is that we do not need to write or know any type of code, since this content manager is in charge of providing a graphical interface from which you manage your entire website without having to deal with very difficult programming languages.
There is something that confuses many people, and that is that they think it is the same wordpress.com what wordpress.org. While the first is a much more limited platform, the one that interests us is wordpress.org, which allows us to download and install the files on our own web hosting.
You simply have to install it once and you will have a control panel ready from which to manage your entire website.

The 2 basic factors that your success with WordPress depends on
Templates: Templates are complete themes that will bring to life the interface of the user who visits your website. We must be cautious when choosing it, since for our website to be the most professional it is not enough that the design is beautiful, but that it adapts to our needs and that it offers a pleasant experience to the user.
Although there are free templates that are great to start with, your website may be so successful that you will soon need a paid template. In any case, we can find great templates for about 59 $ that will make your website have nothing to envy that of the big companies that you can think of. My recommendation is that you look for a free one to start, since at any time you can change it without losing any of your work.
Plugins: They are the other arm of every page in WordPress. If to offer an excellent usability we need an optimized design, with the plugins we will add extra functionalities in a very simple way. The catalog of plugins for WordPress is very extensive, so it must be very strange what you are looking for not to find it.
The vast majority of plugins are free. This is the case with WooCommerce, which allows you to create a complete online store with a few clicks.
There are plugins for everything you can imagine: from to layout pages, to manage the cache version of your page so that it loads faster or to add social buttons that allow users to share content. According to some variables such as demand, utility, specification or support it makes some plugins more expensive, but this should not worry you now, since, to begin with, I assure you at 100 % that you will not need to pay for this.
The benefits of WordPress are multiple, but its ease of use and the extraordinary results it offers stand out especially.
Creating a page with WordPress is not difficult, since with its extensive community, we can create our own website with all the endorsements.
10 easy steps to create a professional website without headaches
Creating a web page is serious work, so it is logical that for someone who is thinking of taking his first tail as a blogger, he needs a script or sequence that helps him maximize the performance of his project.
Next I will tell you the order-step sequence for the start-up of any web page.
Find out what your great value proposition is
User always comes first
Choose the type of website that best suits your idea
Think carefully about the architecture of your website
Prepare your content
Register your domain and hosting
Install and configure WordPress
Start posting!
Boost traffic sources
Although you can follow the order you want, doing it as I indicate you will increase the chances that your website will be ready as soon as possible.
1. Find out what your great value proposition is
The first of all is to define what is so wonderful that we want to share with the world.
To make a good quality website, the first thing you need to know is what the ultimate purpose of your website is.
Most of the websites aim to be the reference of something specific in the sector. This can be many things, but in any case, their mission is almost always to make you profitable.
That your website generates income in some way is not only important for you, but it is crucial to be able to continue to maintain the business of operating online.
To generate income with a web page, there are several ways that are basically summarized to:
Monetize with our own products and services.
Monetize with someone else's products and services.
The term "monetize" should not confuse the dear reader, since it is not simply about exchanging products or services for money, but establishing your website as an authority site within your sector offering something valuable to someone.
Whether you offer free articles or a PDF guide, the important thing is that they are valuable resources that are useful to your users, since they are the true kings of your website.
Among some ways to make your website profitable is the sale or promotion of:
software
Digital products (online courses)
Coaching
Services «I do it for you»
Ecommerce
Physical books
Offline products and services (such as cleaning services)
Much more
The monetization method will depend on your value proposition, that is, the way in which you will get your website to start giving you money, either by the activity itself within the site, or by boosting the sales of your offline business, etc. .
2. User always comes first
It is useless to have a spectacular website or to fill it with a lot of quality content if it is not attractive to your target audience.
Once you define what you are going to offer, it is important to target it to the right audience.
Convince: What you say on your website must be credible. Not only the content has an important relevance, but every detail of your web page will say something about you. Convincing someone with our ideas is easier than you think: you just have to assume that you would believe yourself if you read yourself.
Think of someone who has no idea what you are talking about. The reality is that the ecosystem of a web page is defined by three simple steps:
Attract. Respond to their concerns so that they visit us.
Satisfy. Be really useful so that they like it.
To hold back. Impact our users to keep them coming back.
Generally, the most profitable websites on the internet focus on a single objective: to create an automated system to publicize their own products or services in such a way that its permanent optimization is the true mission of its administrator.
It can also be used as a springboard to achieve your goal, publicize or change something in people's mentality, but, of course, every web page must find, at a minimum, a way to achieve the return on the initial investment and the enough to be able to cover the costs of its operation.
3. Choose the type of web that best suits your idea
Depending on the type of project you want to launch, you should focus your website in one direction or another.
Currently there are various activities that will require certain resources depending on what you are looking for.
Choose the type of website:
Blog: where we can publish articles of interest to our users.
Online store: where to sell physical or digital products.
Website for your physical company: as a complement to the physical business, a website generates trust, transparency and credibility.
These are just a few more popular examples. However, although the limits are up to you, choosing the approach correctly will help you maximize the achievement of your goals.
4. Think well about the architecture of your website
Before doing anything, try to create a sketch on paper of what your website will look like.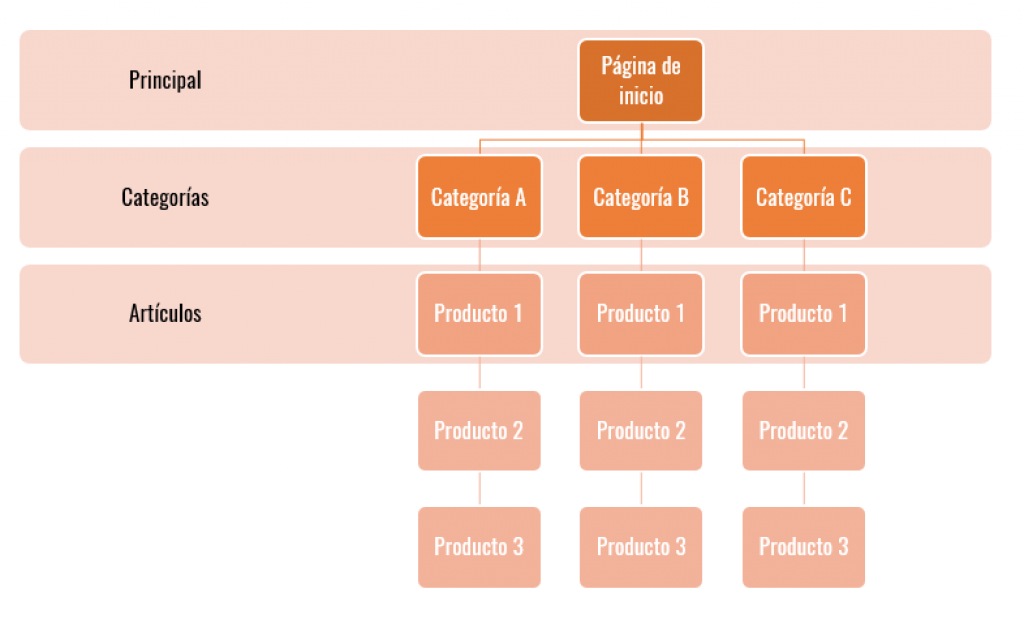 In general, a web page is made up of an architecture based on the following scheme:
Home page or home: It is the main page that your users access to visit the rest of the web.
Depending on your type of project, you can use it to show the latest news, the most visited articles or create a landing page (or destination page) to get a specific action from your users.
Pages: They are pages, like the main one, that we create to show information to the user about a specific issue, such as an offer or the download of a resource.
Categories: They are the different sections that include similar entries within your web page. For example, on a spell blog, the categories could be: love spells, luck spells, money spells, etc.
Tickets: It refers to each of the articles that you publish. Entries are organized within categories, so that by visiting a category, the user has access to all related entries.
5. Prepare your content
One mistake a lot of people make is saving this for last.
Having everything that you are going to publish ready is not only more comfortable, but it also allows you to optimize your time more.
Although, for example, for a news website it is impossible to create content in advance, since the news is coming out all the time, you can write about 20 or 30 news this week and gradually add more.
It is advisable to have a basic content that allows users to get to know your project and to come back for more when you make the following publications.
It will also help you better understand the architecture of your website, since it is much easier to create the categories when we already know the content we have.
If you can, create all your content at the beginning, depending on your project you will need more or less work, but advancing everything you can at the beginning will allow you to schedule the publication of the articles to achieve greater efficiency.
6. Register your domain and hosting
This is the part that scares most people the most.
Although, certainly, it is the least attractive part of all.
For our page to have a professional appearance, we must look for a hosting that allows our website to download quickly in the user's browser, and also a .com domain.
I am not going to extend too much in this section, since a while ago I wrote an article with all the information you need to know about domains and hosting.
7. Install and configure WordPress
Since we know that WordPress is the web page manager par excellence, it is best to make the most of it.
Versatility, speed, attractive designs, adaptability, etc. are just some of its advantages.
As it is the most popular content manager on the internet, this means that there is a huge community working behind it to offer increasingly advanced and useful functionalities.
Once you get your hosting and your domain, installing WordPress is really easy. Generally you will have to enter Softacolous and give it to install. In a few minutes you will be able to access your website from WordPress and start building your page.
When installing WordPress, a default template will be activated. From WordPress itself you can change the template or download a free one that you like more. However, if you are looking for a more professional template, you can buy one from Themeforest.
Once you have installed your template, you must include some tracking codes that will connect your page with some services, such as Google Analytics or Facebook.
From the Plugins section you can install, activate, deactivate or remove plugins. As I have already told you, it is up to you to choose the ones that suit you best.
8. Start posting!
WordPress allows the creation and modification of pages and posts in a very practical way.
There is a paid plugin, called Visual Baker, that allows you to create web pages in a graphical interface, so that you drag the elements and modify them using your own mouse.
You can also schedule the publication of posts and pages, so that you can leave everything ready to be published when you choose.
9. Boost traffic sources
A successful website is characterized by being able to attract users naturally on its own, however, although this is usually very effective, it is also true that it is a very long process. For this reason, many people who do not want to wait long months, decide to give it an extra boost by attracting visitors with different methods. In general, all traffic sources can be reduced to two:
Paid traffic sources: Ads on Facebook, Google, Twitter, etc.
Sources of earned traffic: SEO, social media, direct traffic, etc.
For starters, free fonts are an excellent option, although it can always come in handy to boost our website with some money.
Among the free traffic sources we find:
Google: You have probably heard of SEO or search engine optimization. Doing so is simpler than they count: just focus on creating quality content, targeting it to a profitable audience, and optimizing your website for easy navigation while as quickly as possible. It is the most cost-effective method of engaging users, but also the most expensive to optimize. Have notions about how it works and what you must do to get one of the first results of each search.
Social media: Really profitable for most businesses. Create a page on Facebook about your website and a profile on Twitter, and start sharing content on it to get followers who become users of your website.
Direct traffic: It may be the most difficult to get, so at first you should not worry too much about it. Over time, when you develop a brand that a group of users can relate to, users may start to come back on their own.
Links on other websites: Although it can be effective if you appear on a major website, the results are only momentary. Getting links on other web pages, rather than to get new users, is usually used to get "recognition" by Google so that it places us in higher positions in its search engine. This is something you will have to do if you want them to start coming.
10. Analyze and create your databases
Once we have everything ready and our project has been in the air for about a month, it is the perfect time to start to understand a little who our users are, how they get to our website, what they do once they are there and check if they comply with any of the objectives that we have set for ourselves.
In addition to knowing them through the analysis reports, there are also other ways to know them a little more, either through comments, emails or surveys that you do on your website.
From this point on it is also very useful to create a user base via email. For this, there are services such as MailChimp or GetResponse that help you do everything.
Although to create a successful website you need two essential ingredients: initiative and perseverance, it is true that following the script that I have presented, I hope that the unknown task of creating a website is considerably facilitated.
Good luck with your website!