Is it true that anyone can install Windows 10 on their computer without leaving home even if they have never done it before? What are the methods that exist to return a computer to its factory settings and which is the best for you? What is necessary to reinstall the operating system of a PC for the first time without ever having studied computer science? How to format a hard drive and install Windows 10 again without dying in the attempt to leave the computer as new?
There are as many reasons why you might want to reinstall Windows 10 as there are ways to do it.
Whether you come from Windows 7 or 8, or if you want to install the operating system from scratch, you will find different ways for which you will need one or the other things.
Although most of the problems that someone wants to format their computer can be solved, most people look for a quick method that really fixes any errors.
Formatting your computer means losing every last file you saved to it, but if your operating system has started to crash and you don't want or can't figure out how to fix it, then formatting may be the best option.
5 reasons to format your computer
Many people if the solution to all their computer problems lies in that drastic solution: formatting the hard drive.
Although it is not always necessary, by formatting the computer we get our computer back to its initial state, free of free and other malware, but also by eliminating any trace of our files.
It is almost always possible to make a backup. However, your computer may continue to throw errors or it may simply be impossible to recover. Sometimes reinstalling the operating system is the best solution.
The computer does not start
It doesn't matter what you do, but no Windows never gets to load.
You have tried the options to repair disk, restore the computer and you do not have technical knowledge. Formatting your computer is the easiest option to fix the error.
Your hard drive is full
Without realizing it, your hard drive has reached its maximum capacity.
You could delete the files by hand, but you have started to review and realize that most of them are junk that you want to delete at once. The solution? Format.
In this way you will eliminate it saving a lot of time, since it is most likely that there are files that you would be unable to locate since they are temporary and are not visible.
If you have tried cleaning your PC but it has not been successful, then you can format the hard drive and reinstall Windows.
Lots of errors appear
If warnings and error messages do not stop coming out, you can try to find information about them and fix the problem yourself. However, if you computer has been infected by a virus, you may have corrupted some data on your system and it may not be able to function the same again.
By formatting and reinstalling the operating system, you would be able to return your computer to its original state quickly and safely.
Your version of Windows is out of date
You may still be one of those people who stay with Windows 7 or Windows 8 and consider that it is time to try the improvements of the new version.
Although there is the possibility of updating without losing the files and settings, many users prefer to do a clean installation, first formatting the hard drive of their computer.
Your computer is running too slow
If your system has slowed down but no error messages appear, you are probably wondering what you can do.
If it is not a hardware problem, a format will probably give you the wash that your computer needs to return to working with its normal speed.
What do I need to install Windows 10?
Only if you want to do a clean installation on your hard drive or in a virtual machine you will need:
A USB flash drive, a DVD or blank
The ISO of the operating system image that you will burn to your removable device.
If you want to update from Windows 7 or 8 or you want to return Windows 10 to its factory state, there is nothing special you need, apart from the fact that the computer on which you want to return Windows to its factory settings has Windows 10 already installed.
How to get a Windows 10 license
Currently there are various methods by which you can obtain a key or license so that you can install Windows 10. At your disposal you will find free and paid solutions:
Upgrade from Windows 7 or 8
If you have a PC whose operating system is still Windows 7 or Windows 8, you should know that even today Microsoft offers a free update tool. It is also possible to install Windows 10 and use a Windows 7 or 8 license to get a fully optional Windows 10.
Buying a new Windows 10 PC
Generally, when a computer that we have just bought comes with Windows 10 installed, the key probably comes within the UEFI firmware. You will only need to install Windows 10 on the PC and the key will be added automatically from a chip on the motherboard.
Buy a Windows 10 license
It is normal that if you are assembling your PC by parts you do not have any license. In that case, you can buy a Windows 10 license from the Microsoft website, as was usual with previous versions. If you are a student, your study center or university may have signed an agreement to offer a Windows 10 license for free. You can choose to choose the version home if it is for the home computer or for buying Windows 10 Professional for a company, although there are different versions depending on your tastes and needs.
Do not use any license
You can install Windows 10 even if you don't enter a product key. However, some messages will appear on the screen indicating that your version needs to be activated. You can use Windows 10 without a license, but you can activate it at any time by visiting the Microsfot Store to buy one.
From the moment you know which method is best for you, then it will be time to install Windows 10 on your computer.
How to upgrade to Windows 10 from Windows 7 or 8
If you already had Windows 7 or Windows 8.1 installed on your machine, then you can use Microsoft's update tool. With it you can install Windows 10, in addition to being able to return to the previous version if you need it.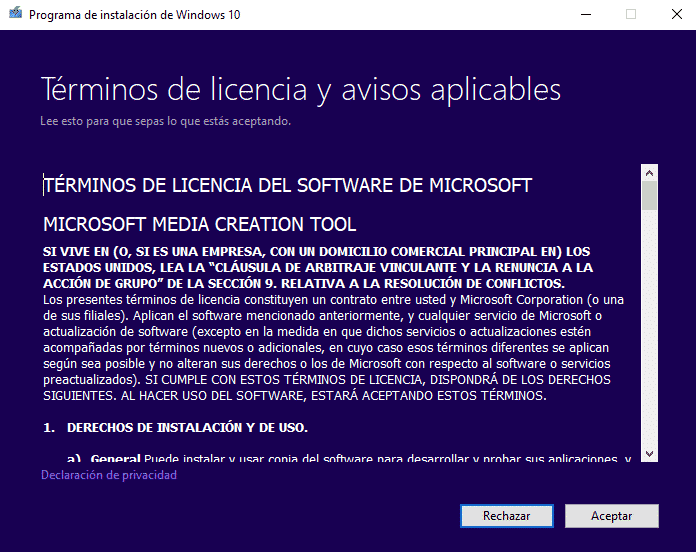 The first step is to download the tool to upgrade the computer to Windows 10 and follow the instructions that appear on the screen after its execution. To upgrade to Windows 10 from a previous version of Windows, just select "Upgrade this PC now" to begin the installation.


The tool will begin to download the files necessary for the installation of Windows 10 and, subsequently, it will begin the installation process
How to do a clean install of Windows 10
If you are not interested in upgrading from an existing Windows installation, then you can download Windows 10 from Microsoft's official website and run a clean installation directly.
Just download the update tool and run it. Select "Create installation media (USB flash drive, DVD or ISO file) for another PC."


Now you will need to choose the language, the edition and the architecture that will allow you to begin with the installation of Windows 10. If you bought your PC recently, the 64-bit version is most likely to suit you, whereas if your PC comes with a 32-bit CPU, then you will need to install this version.
If you plan to install Windows 10 on your current PC, it is best to check the "Use the recommended options for this computer" box.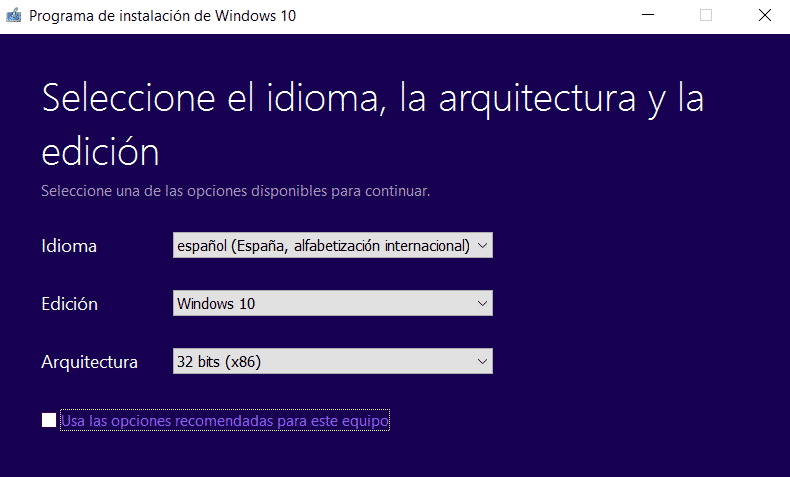 The most convenient option is to choose a USB flash drive. But, to install Windows 10 in a virtual machine, then you have to choose the "ISO file" option. In this way, the tool itself will download an ISO file so that you can boot into the virtual machine where you want to install it.
Once you have it created, just insert it on the PC where you want to install Windows. You must start from the device where you have downloaded your version of windows 10. To do this you will have to control the boot options from the BIOS and select your device as the startup medium.
Then the installation screen will appear, where you can select your language, time and currency format and keyboard or input method.
Hit next and hit Install now.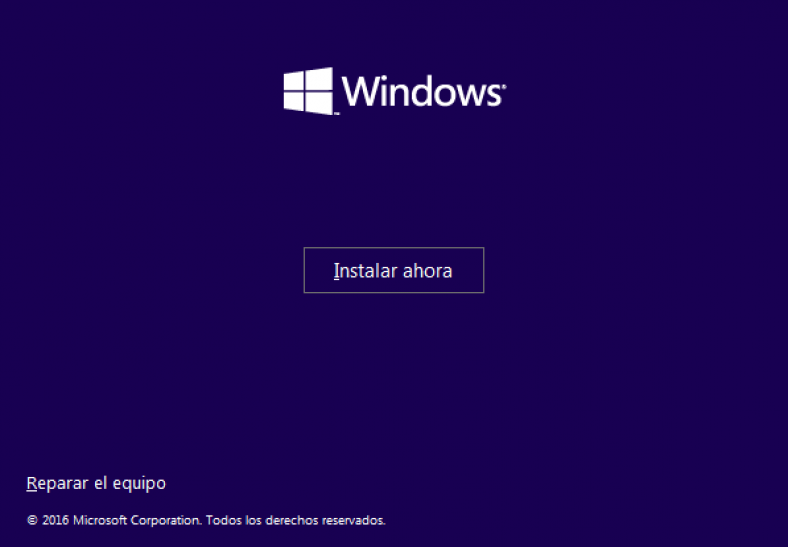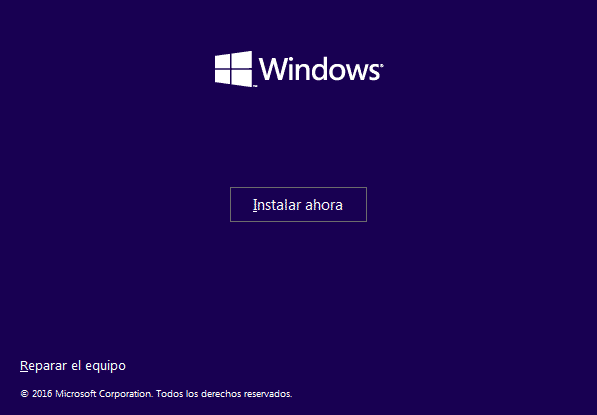 At some point in the process, it will ask you to enter the activation code. You can do it or skip the step. In any case, you may not see this message if Windows 10 automatically detects a key associated with your computer's hardware.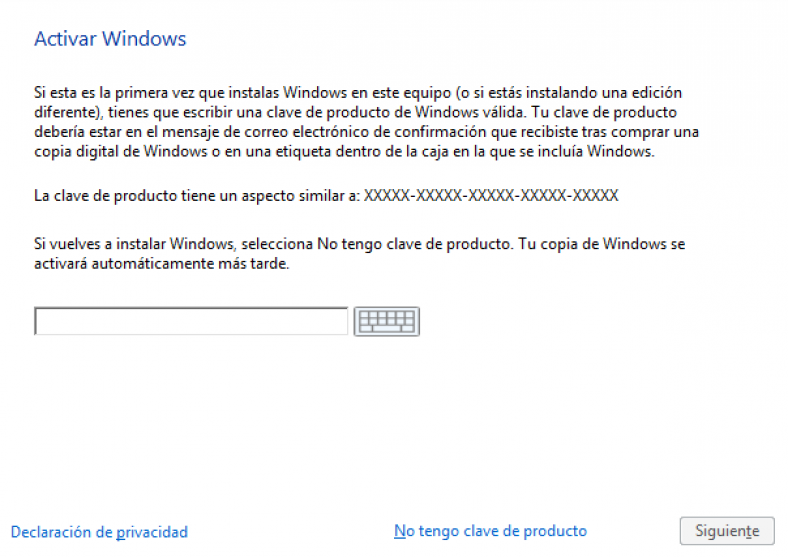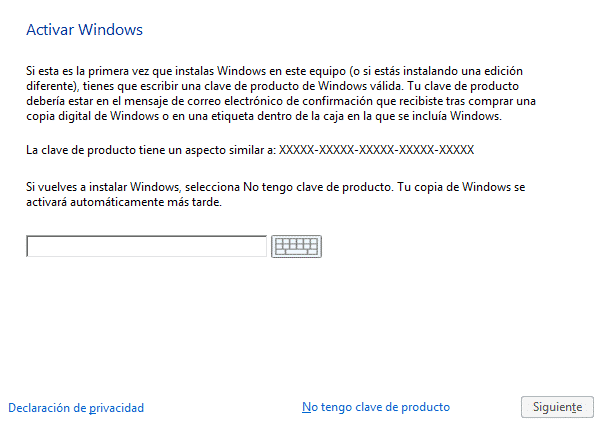 When I ask you "What type of installation do you want?" then choose "Custom: Install Windows only" if you want to perform a clean system installation and remove all files and data from your PC. To keep files and settings, then click "Update: Install Windows and keep files, settings and applications".
On the next screen you will have to select on which hard drive Windows 10 will be installed. If several options appear, you may want to delete them all.
But beware! because deleting a partition means deleting all the files that partition contains. Make sure to back up your valuable files before doing this.
Once you have all the deleted partitions you will see that "Unallocated space" appears. Just select it by clicking once on the block and click "New" to have it formatted. Click Next to continue.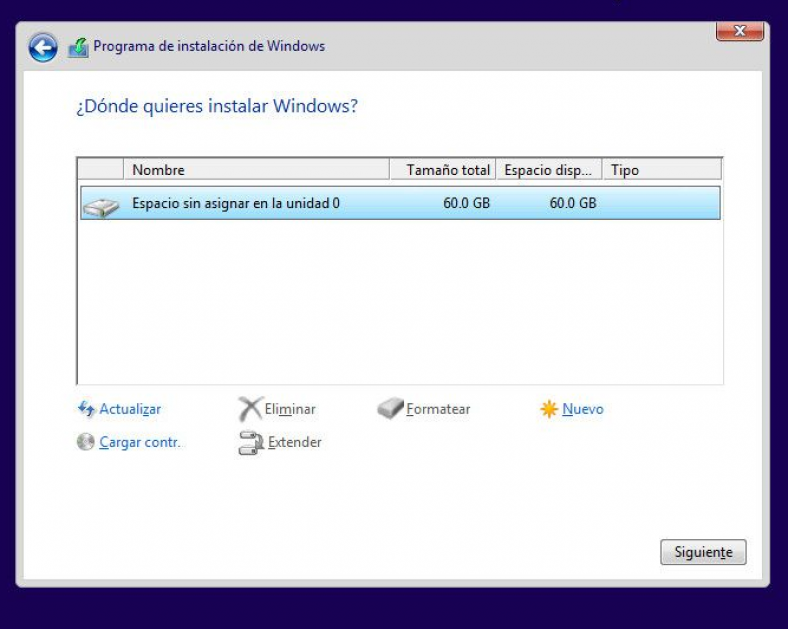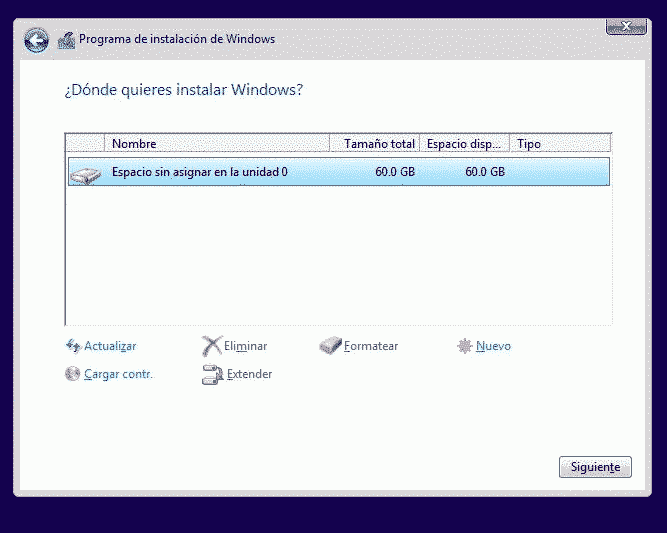 Once Windows 10 starts to install it will take care of everything itself and may restart several times during the process. Once the process is finished, you will see the interface to configure Windows on your new PC and assign accounts and other settings.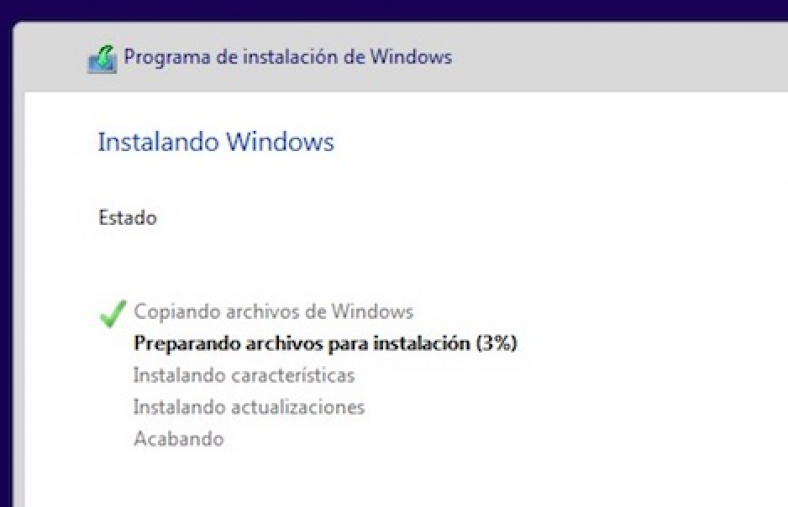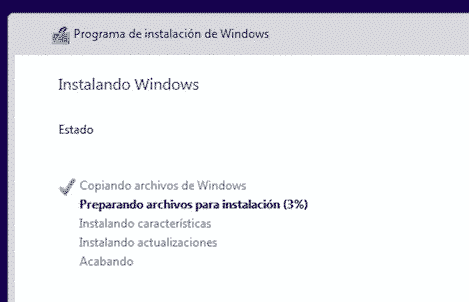 How to reinstall Windows 10 on a PC that already has Windows 10
If your computer already has Windows 10 installed and you want to reinstall it again, below you will find an explanation on how to do it.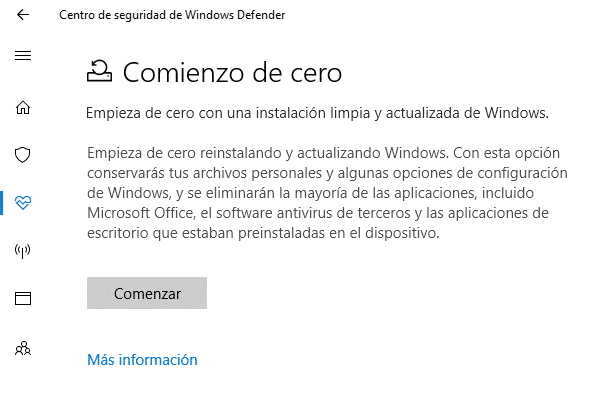 From Update Creators you can reinstall Windows 10 to leave it as new. In Windows Defender you will find options to leave your computer as it was when you took it out of the box, with the manufacturer's applications; although you can also choose to install a clean version to simply have the Windows 10 operating system.