Have they tried to gain access to your house to rob and now you are looking for effective ways to prevent it from happening again? What can we do if they have already entered to rob us but we want to be prepared in case a second attempt happens? Would you like to take your home protection to the next level to prevent intrusions into your prized home?
Approximately 80% of the locks are experiencing the danger of unwanted access at the moment.
These days, home invasions are unfortunately more frequent than we would like.
Imagine the following scene: you come back from having a romantic dinner with your partner or taking a nice walk with your family and when it is time to relax at home, you realize that someone has entered your home.
Helplessness, despair, sadness and helplessness are just some of the feelings someone experiences when they see that their privacy has been violated and that someone has put their hands on something that does not belong to them.
Also, insecurity and fear invade your life and all you think about is the following question:
What could he have done to prevent it?
People who lose everything they have in an instant and never see it again.
If you want to avoid going through this bad drink, it is best that you keep your house with the best protection that guarantees that someone without authorization cannot enter and steal your precious possessions without any consequence.
Although it is true that there is no infallible method to protect what we love the most and that criminals will always find a way to break into your peace of mind if they set their mind to it.
The good news is that today you will discover which is the star method used by thieves around the world and we want you to know it so that you too can prevent yourself from now on.
Do you want to discover what are the practices that you can start using right now so that your home remains the cozy and safe place that you have always remembered? Just keep reading.
The bumping method or how you can get into your house without you knowing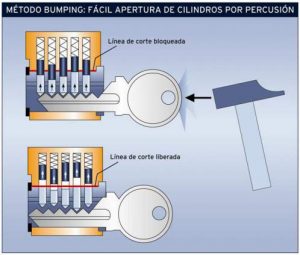 Perhaps you have ever heard of the bumping method to open doors and locks without leaving a signal and with little noise.
This technique was used by locksmiths in Denmark during the 1970s. Its simplicity and the ease of putting it into practice allowed them to open locks only by applying a sharp blow or pressing the key with an object to make the cylinders jump and the lock glide freely.
However, it has been at present when this technique has begun to become popular for illicit purposes, thus discovering how vulnerable are the traditional locks that - we believed - that protected our homes.
This technique has been adopted by organized gangs and the method has spread among criminals of all kinds who break locks for highly questionable purposes thanks to the use of the Internet.
7 measures that you should use now to avoid unwanted theft
Certainly, the bumping method is very popular among burglars who want to gain access to someone's house to rob; however, on the other hand there are certain additional issues that make a profound difference between a properly protected home and a potentially vulnerable home.
By putting certain recommendations into practice, you will be able to multiply the security and protection offered by your home by up to 4.
Install an alarm
Having an alarm at home is not only effective, but it is usually not very difficult to get one of these systems. It's a great way to keep your home safe as long as it's professionally installed; although it is also possible to have a dog to alert us when it detects an unauthorized presence on our property.
Install an anti-bumping lock
Undoubtedly, the bumping method allows effortless unlocking of almost any type of mechanical lock, be it security or armored doors, in a clean and fast way; therefore it is advisable to have an anti-bumping bowler to reduce the chances of an unexpected intrusion.
Close doors and windows well
An unlocked door or window is an excellent entry for a burglar into your home. Make sure that your doors and windows close properly and, if not, it is best to fix them as soon as possible.
Leave the lights on when you leave the house
When a home appears empty or unoccupied it can become a burglar's # 1 target. Leaving the lights on is an excellent measure to keep your home safe.
Trust your neighbors
It is always a good idea to get along with your neighbors. It is often very practical to have their valuable help to protect your home when you are away.
Take care of your keys
Keys are the heart of your home security. Make sure you always have them located and, of course, do not associate them with anything that allows you to guess where your house is.
Watch who enters your house
Either for some reform or maintenance, there are times when unknown people will access your house, so if you have valuables, it is best to remove them from sight to avoid unpleasant surprises. As you can see, there is no single method that guarantee us total protection against thieves or robberies; However, we can always take some caution and put these helpful tips into practice so that the possibilities of attack are reduced to a minimum and our home remains the wonderful place we remember in our minds.